Medical Services During Shelter in Place
(Updated 4.15.2020)
Axis is open and most all of our services are available by phone.  You can take care of your health without coming to the clinic.  Staying in good health is always important, but especially now during the COVID-19 health crisis.
To schedule a phone appointment with your provider call 925-462-1755.  A phone medical visit is safe and easy.  Appointments are available for preventative care, health maintenance, and for emerging health needs.  Axis is here to support all your health needs including care for diabetes, hypertension, asthma, allergies, or other illness.  We will also assist you with any necessary arrangements for x-ray, laboratory tests, or specialist follow-up. Some care may be postponed; your provider will make that determination with you.
Schedule a phone visit by calling 925-462-1755 for:
-Adult Medicine
-Pediatrics
-Diabetes
-Hypertension
-Regular health maintenance
-Preventative care
-Nutrition
-Women's health including reproductive services
Schedule an In-person appointment for:
-Pediatrics for well babies 24-months and under
-Women's health procedures
-Prenatal visits
-Immunizations
All in-person appointments are at 5925 W. Las Positas Blvd., Suite 100, Pleasanton.  This site is being maintained with extra cleaning and screening to ensure staff and patient safety.
_______________________________________________________
About Our Medical Services
Axis Community Health provides comprehensive medical services, partnering with each of our patients to develop a personalized health care plan. We provide care for every member of the family, from newborns to seniors.
Our services include adult medicine, pediatrics, women's health, prenatal care, family planning, and nutrition education. Our team can help you maintain your health through preventive care and treatment for minor illnesses and injuries. We can also help you manage chronic medical conditions, such as diabetes, asthma, or high blood pressure.
We provide a medical home for our patients, with our team of health professionals working together to make sure patients get the care they need and, if necessary, coordinate care with specialists and other providers. Our medical team includes licensed, board-certified family practitioners, internists, pediatricians, and nurse practitioners. We also provide integrated behavioral health services, with team members that include clinical psychologists, licensed clinical social workers, and licensed marriage and family therapists.
Our knowledgeable and experienced Enrollment Services Department staff will help you understand and navigate the enrollment process for health care programs such as Medi-Cal, Covered California, CalFresh, Medicare, HealthPAC, and Healthy Families. Click here for more information.
Our medical services are also available on a sliding fee scale based on income and family size. Regardless of your income, insurance status, or ability to pay, we will work with you to help you get the care you need. No one will be denied access to services based on inability to pay.
To get started receiving heath care from Axis, call 925-462-1755 to schedule an enrollment appointment.
To learn more about our services, click on the links in the left sidebar.
Axis Community Health is licensed by the State of California, led by an independent board of directors, and is a Federally Qualified Health Center Program grantee under 42 U.S.C. 254b. All providers are deemed federal employees, with resultant coverage under the Federal Tort Claims Act (FTCA) for actions within the scope of deemed employment, pursuant to 42 U.S.C. 233(g)-(n).
Call 925-462-1755 to make an appointment for a phone or in-person visit.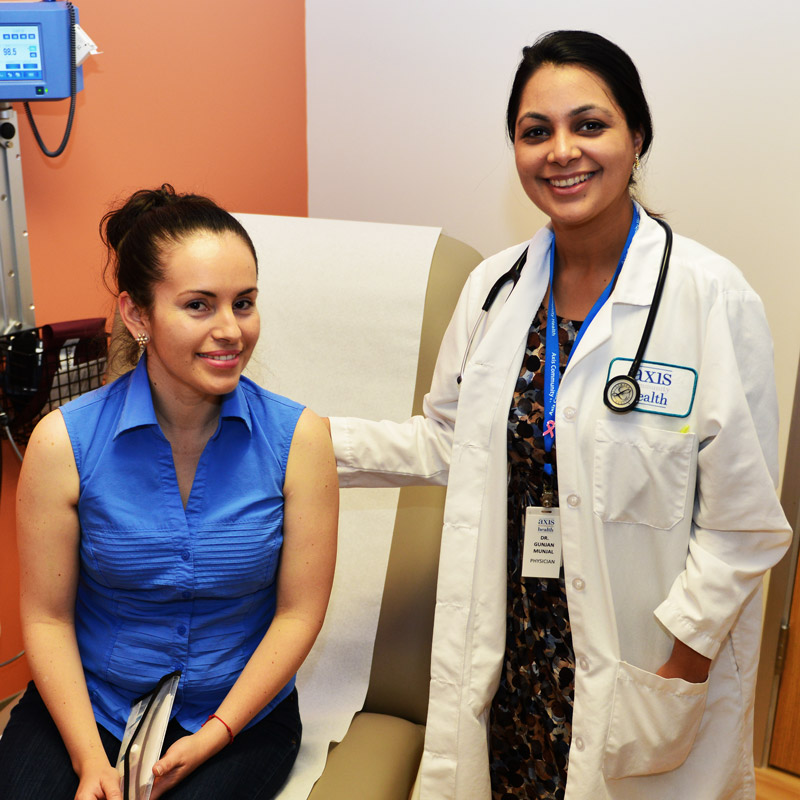 "I'm writing this letter to tell you what Axis means to me and my family. I'm 63 years old and I'm not working due to health problems and I certainly cannot afford to go to any other hospital let alone get any medical insurance for myself. A lot of people like me depend on the services that only Axis can provide."
-An Axis Patient